One Sunday morning we received a phone call from Felicita at
Woodward Canyon
. Felicita has worked at Woodward now for over 18 years. I think she has done everything at that winery from punchdowns during crush to managing the tasting room. For the time being, she has decided to go into "retirement" and only works a couple days a week. She called to invite us out to the winery that afternoon. The tasting room had finally calmed down a bit after the holiday shopping and she was eager to have us taste
Woodward'
s line-up of fine wines.
Steve and I couldn't pass up that invite and so we headed out to visit her. Woodward Canyon is located in Lowden in the Walla Walla Valley. The tasting room is a restored 1870's charming farm house. Winemaker Rick Small established Woodward Canyon Winery in 1981. Since that time, the winery has consistently produced premium and award-winning wines. We tasted through the beautiful reds, but the most unique wine for the valley was the Riesling. A bone dry Riesling, at that.
The Riesling was produced entirely from fruit grown by the DuBrul Vineyard in the Yakima Valley. DuBrul is a very old and very fine vineyard located north of Sunnyside, Washington. While a dry wine, it was ripe with peach flavor, yet flinty like the rocky soil from DuBrul. A very aromatic wine that was crisp with a perfect balance of acidity. Like it's German siblings, it would cellar very well. A few bottles had to be purchased!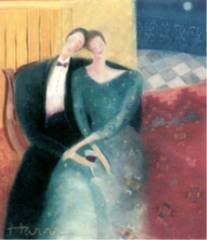 While we were visiting, we noticed the series of artist posters that hung prominently on the walls. The series started from 1992 when
Woodward
created a label from a painting for their Cabernet Sauvignon and the artist series wine and posters have continued up to their most recent vintage. The 1993 pastel
"Moonlight Becomes You"
by local artist Elizabeth Harris caught our eye. It was a blend of the both of us. Me - the more formal checkered tile in the background and Steve, a collector of Native American blankets, where the red background with the Native American symbols blends into the two people drinking wine.
It looks perfect in it's new black and gold wooden frame next to the fireplace and we will have a nice keepsake long after the wine is gone.